Plans
Dec 2006 - submitted the plans to the city for approval.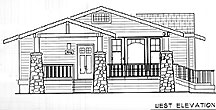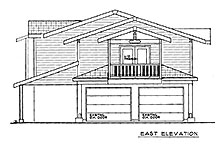 Above left: Front of the house, porch is deep enough to provide a sitting space with chairs and small table.
Above right: Rear of house, master bedroom above garage with carport to the left of the garage.

West view of house: This shows the slope of the yard to create a first floor front entrance (left side) to a two-story over the garage. There will be a full basement below the main part of the house.
Size: The main living area is 1862 sq feet. The basement is 1246 sq feet and there is a 2 car garage. Making a grand total of 3106 sq feet.