Creating an Energy Efficient House
During the design we decided to make the house as energy efficient as possible. We incorporated this by creating a high R-value, tightly sealed thermal envelope, and controlled ventilation.
R - Value
ICF Walls - We used Insulating Concrete Forms blocks in the construction of the exterior walls in the house and basement. Each block is 12 inches wide, 48 long, 17 inches tall. They lace the inside of the blocks with rebar, plastic zip ties, and funny bridge trestle things. They sealed the bottom with spray foam from a can, before filling with concrete.
R-Value = 50
Stick built walls - We insulated the walls (2x8 construction with staggered 2x4s) with blown-in insulation to create R-Value = 30.
Ceiling - The ceiling insulation also blown-in. R-Value = 60.
For example, a typical house might have R-11 fiberglass insulation bats in the exterior walls and R-19 in the ceiling. The floors may be insulated with R-19.
Tightly Sealed Thermal Envelop
Insulating Concrete Forms (ICF.) Two layers of extruded foamboard (one inside the house and one outside the house) that act as the form for a steel reinforced concrete center.
Vapor Barrier Liner - On the outside of the ICF blocks we wrapped the house in Tyvex. This prevents driving rain and wind from entering into the walls.
Windows - The Sierra Pacific windows are dual pane insulated glass, filled with LoE2, and are certified by the National Fenestration Rating Council.
Spray Foam Insulation - We sealed cavities around the framing and blocking, can lamps, solatubes, and ducting.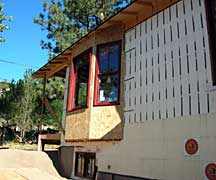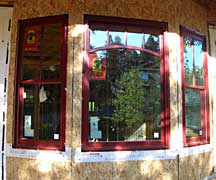 Heating
Radiant floor heating - Pex radiant heat tubing (from Radiant Direct) and covered with 1/4" foil backed insulation. This is looking at the floor of the second story master bedroom. There is a Solahart solar water panel and tank on the roof to heat the radiant heat and domestic water.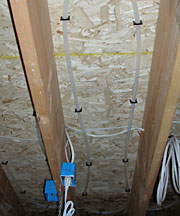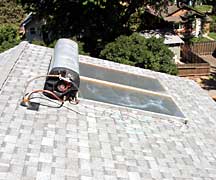 Controlled Ventilation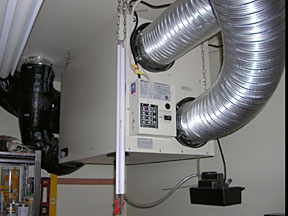 Heat Recovery Ventilator - We installed a FanTech. The unit transfers heat from the outgoing, stale household air to preheat the incoming, fresh air. Using cross-current sections, it ensures the two air streams are kept separate preventing the incoming fresh air from being contaminated by the outgoing stale air.