Framing
Oct 10, 2007 - After the insulation was installed and inspected, then drywall was hung. Gary is in the mud room (basement) installing the solatube.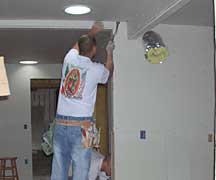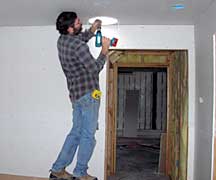 July 29, 2007 - Just about all the framing is done. The walls are up, roof is on, and windows are almost done. Next is the plumbing and electrical.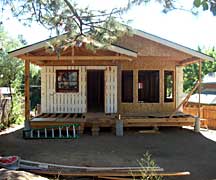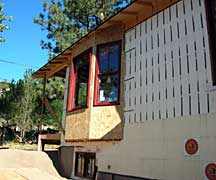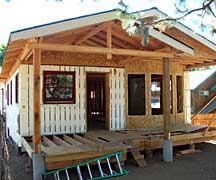 June 30, 2007 - The exterior ICF walls and interior (stick built) walls of the main floor of the house have been framed.
June 17, 2007 - The interior basement walls, stairwell, and sub-floor of main floor have been installed. Next is building up the walls of the main floor.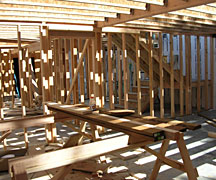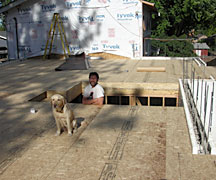 June 11, 2007 - The floor of the basement was poured. Before the pour Gary had attached the radiant heat tubing to the wire mesh. After the pour, we added a 1 minus river stone on top, which was floated into the mix. After the framers finish, we will grind off the top layer exposing the aggregate stones.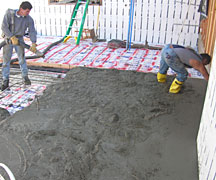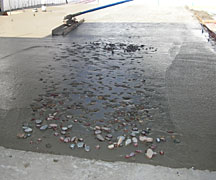 June 1, 2007 - Filled the basement walls with concrete. The crew worked a couple of long days to be ready for the Friday afternoon pour. The weather was was real warm, which was quickly followed by an afternoon thunderstorm. The crew filled the wall cavity in three passes. The gentleman on the ground would tap the wall and holler when the wall was half full, about to the bottom of the window. The concrete was pumped in overhead. The pumper truck is in the vacant lot, you can see the red crane arm in the rear of the picture. The crane operator is wearing the safety hat.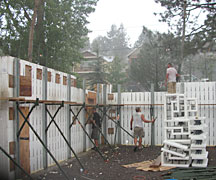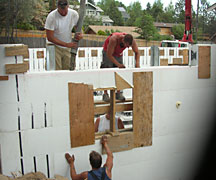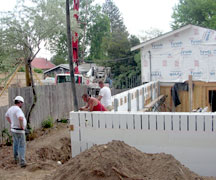 May 30, 2007 - Begun the first courses of ICF blocks. Each block is 12 inches wide, 48 long, 17 inches tall. They lace the inside of the blocks with rebar, plastic zip ties, and funny bridge trestle things. They sealed the bottom with spray foam from a can.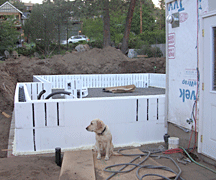 Feb 23, 2007 - Completed the siding and back porch which will be our entry way while we live in the master bedroom. Watch video.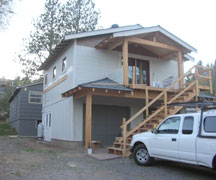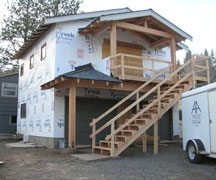 Jan 24, 2007 - Roofing trusses installed on Master Bedroom
Watch video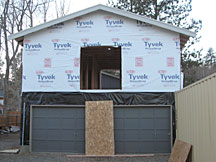 Jan 23, 2007 - Construction of the new master bedroom (4 walls)
Watch video of the walls being framed