House Remodel project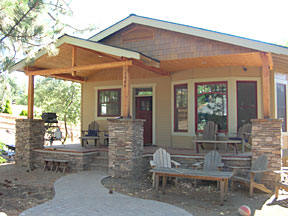 August 2008 - Almost completed. We need to complete a little bit more before requesting a Final Inspection. The city is requesting a change to the porch steps (not right height) and needing a hand rail. We have completed inside of the house, but still need to finish the basement. We are very happy with the outcome and have begun moving boxes from the sea cargo container in the driveway into the house.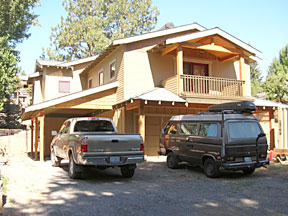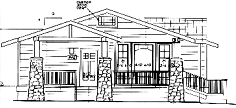 July 2007 - The remodel is well under way and we are liking the look of the house as it is taking shape. Sometimes a design on paper looks and works completely different when you actually build it. We have been able to tweek the design as it progresses to make an area more efficient or look better.
Currently we are living in the Master Bedroom (500 square feet) during the construction of the house. Gary cooks on the propane grille and barbeque under the stairs. There is a refrigerator and microwave in the room. We have a futon and a small kitchen table.
Since it is summer and we are spending most of our time outside, we are comfortable in the room. I think the part about this that I don't like is having most of our things in storage. A year ago we boxed up everything but the common essentials and put them into a sea cargo container. It will be nice to have more room to be able to get to those things that I haven't had for a while.
We are thinking that we could be done in October or November, but something could change that so this is just an idea.