Was Hong Kong ready for us?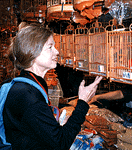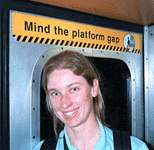 Our two heroines (Marilyn and Bindy) traveled to Hong Kong to conquer the island of adventure. They had one week to accomplish every activity that Fodors, Early Planet, Moran and the Hong Kong Tourist Association has written describing Hong Kong and her surrounding islands.
Did they do it? Please, you must read on . . .
Friday/Sunday April 5-7, 1996
Leave on Singapore Airlines nonstop to Hong Kong
Arrive Hong Kong, Airbus to City Gardens Hotel.
Walk around block before checking in. Went bakery, food market and MTR station.
Shower/slept
Ate at Panash
Attempted Peak Tram but bailed due to long queues
Star Ferry to MTR
MTR to Apilue Street
Golden Arcade Shopping Mall
McDonalds dinner
Temple Street night market
Regent Hotel harbor view
Star Ferry
MTR to Fortress Hill (hotel's stop)
Seven Eleven to buy breakfast
Monday, April 8, 1996
Order Grey Lines tour to China at lobby desk
went to Central District
Peak Tram Bus to summit for breakfast
Interviewed by school kids
Peak Tram down mountain
Botanical Gardens
Hillside Escalator
Flaming lunch (Singapore Style noodles)
Hotel for Nap
Missed 65 bus to Stanley at Fortress Hill
MTR to Central
Bus 65 to Stanley
Chinese dinner
Market shopping
Bus to Central
Walk around City Garden Square
Called Patty
Tuesday, April 9, 1996
MTR to Sheung Wan to Macau Ferry Terminal
Jet powered Catamaran to Macau
Bus ride to city central square
Lunch, shopping
Return to HK on 2 p.m. ship
Kowloon - Golden Shopping Arcade
MTR to Fortress Hill
Shopping for dinner, breakfast and lunch
Developed film
Called Gary
Wednesday, April 10, 1996
6:30 a.m. bus to China (Shenzhen and Guangzhou)
Grey Line tour pick up at Hotel
10 tourists, 2 guides and 1 driver
Shenzhen - Border town, new special economic zone that allows free trade in community
15 year old city, 3 million people, super highway 1 year old
Terra Cotta Soldiers Museum
2 hour ride to Guangzhou (Canton)
Guangzhou - oldest city in China (2,800 years)
Lunch at Star Hotel
Dr. Sun Yet Sen's Memorial Hall (he over threw the Qing Mancu Dynasty (Last Emperor)
Bus ride home, arrive 10 p.m.
Thursday, April 11. 1996
Bus 63 from Fortress Hill to Stanley
Dim Sum breakfast
Shopping
Bus to Aberdeen - McDonalds prayer women on toilet
Mini bus to Star Ferry
Star Ferry to Ocean Center (Gortex Store)
Ocean Center to Bird Market
Golden Arcade Shopping Center
Lost the Internet Store
Central Plaza Observation deck
Developed film
Dinner at Panash
Called Rich
Friday, April 12, 1996
MTR to Ferry terminal, Ferry to Lantau Island
Bus #2 to Big Buddha (40 min. ride)
Met Cambodian couple from Virginia
Vegetarian lunch in Monastery
Bus to Ferry, Ferry to HK
Star Ferry to Kowloon
McDonalds lunch
Rode #1a bus on its entire route (Star Ferry to New Territories and back - 2.5 hour ride)
Temple Street night market (Marilyn's bag buyout)
MTR to Fortress Hill
Bought noodles in drug store
Packed bags
Called Patty
Saturday, April 13, 1996
Marilyn's 39 hour Birthday
Tram ride to North Point then back to Central
Western Market
Din Sum
Hotel - Shower and 3 p.m. check out
City Garden Plaza shopping
developed film
Airport Bus to Kai Tak
Flight home - Leave HK 9:45 p.m., arrive SF 5:45 p.m.
Gary picked us up from airport